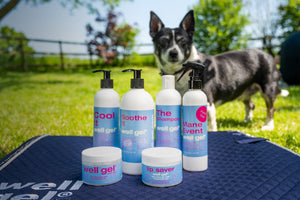 In 2001 I decided to study animal aromatherapy and become a GEOTA (Guild of Essential Oil Therapists for Animals) Qualified Therapist and enrolled on their first diploma course and qualified in 2002.
During this time, my own horse Mandela suffered a particularly bad bout of Mud Fever which included swelling and infection around all fetlocks. I made a gel using Aloe Vera and essential oils to see if it could help the condition. After 4-5 days of application there was a vast improvement, all the swelling had gone and the scabs were being replaced with healthy skin re-growth. At this time, several of my friends' horses were also afflicted with mud fever and they asked if I could make some gel for them to use. As I had decided to use Mud Fever as a chosen case study assignment I agreed to provide them with the gel for the cost of the ingredients. All of my friends' horses had the same benefits as Mandela and recovered from the symptoms and had healthy skin and hair re-growth within 7-10 days.
Since then, I have taken Well Gel into retail shops and extended the range to include products that your animals would choose for themselves. All our products contain essential oils selected for their abilities to aid the skins' own healing and instantly soothe when applied.
Here at Well Gel Products we pride ourselves on producing natural, hand made skin products for your animals, using top quality ingredients that are selected to work in synergy with the body's own healing abilities. Our products are Cruelty Free and we only use Recyclable Plastic bottles and pots with labels that are easily removed. 
So now the WELL GEL RANGE is available for you to buy in shops and here where you can now earn Well Gel Loyalty Points every time you buy from us – Gain 100 points and receive a £5 discount.